Breastfeeding is hard, really hard. The books, videos, and even mothers who have done it seem to always say what a lovely, rewarding experience nursing is. So often, the difficulties are left out and are only discovered by the poor new mommy as she's trying to figure out how to care for her little bundle of joy. It's time for a little reality check on breastfeeding; here's what no one tells you, what you need to know, and how to overcome those difficult moments.
LATCH ISSUES AND OH, THE PAIN!
When I was pregnant with Emma, I took a breastfeeding class and read a couple of books on the subject. I was determined to breastfeed for a year so that we could give her the best advantages for physical health, as well as reduce the cost of being parents. Every resource told me that, when you're doing it right, breastfeeding should not be painful. Not true. Breastfeeding can be really painful, even if both you and your baby are doing everything right!
Yes, sometimes a latch needs some work (contact a Lactation Consultant for that) but it's completely normal for even the best latched babe to cause a new mami some pain; not just discomfort, but toe-curling, silent scream pain. After giving birth to Emma, she wanted to nurse a lot. All I had was colostrum, of course, but she would nurse for 45 minutes at a time! I have pretty sensitive nipples but, from what I hear from other moms, pain during the first couple of weeks (minimum!) while the nipples toughen up is totally normal. I had significant pain until Emma was exactly six weeks old. Then, it was like something clicked and breastfeeding felt comfortable.
Remember though, just because the first few weeks are painless doesn't mean you're not going to be hurting later. With every major growth spurt (about every three months, it seems), Emma would nurse harder, longer, and more frequently which meant a short period of discomfort as I got used to her new demands. Emma has lots of teeth and sometimes gets lazy with her latch, letting her mouth close a bit, and causing me quite a bit of pain as her teeth come down on me. I remind her to keep her mouth open and ask her nicely not to bite and we usually move right past it, thank goodness!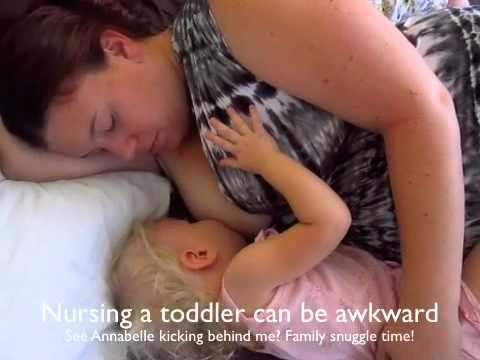 SUPPLY CONCERNS
I imagine every breastfeeding mother is concerned at some point that her baby isn't getting enough. Despite plenty of wet and dirty diapers, if your baby is fussy or gassy or whiney or whatever, your first thought may be that you don't have enough milk or that your milk isn't satisfying enough. Most often, breastfed babies are getting exactly what they need and the mother's milk supply is fine.
Supply can drop due to exclusive pumping, a low-calorie diet, or stress; all of which can be remedied by eating foods that support lactation, meditation, and an increase in nursing/pumping time and frequency. So often, a pediatrician will express concern over slow weight gain and indicate that formula supplementation is necessary without examining the mother's situation to determine if the low supply could be remedied.
FEELING TRAPPED
When your baby is tiny and needs to nurse 'round the clock,' it's easy to feel like you're tied to your little one because… well… you kind of are! Let's face it, pumping is not comfortable and if you miss a feed you're going to feel engorged and leak all over the place anyway so why even try to get away?
It's hard, I know. What's most important to recognize when you're feeling trapped by the obligation to breastfeed is that it's temporary. The need to nurse every two or three hours only lasts a few months and that time flies by so fast. Keeping in mind that it's a brief moment in the grand scheme of things can make it seem less daunting.
Breastfeeding is an incredible experience filled with ups and downs, rewards and challenges. Both you and your baby will benefit from it for the rest of your lives so, if you can get past these issues, it's completely worth it. And at that moment, when you feel like giving up, get into bed and nurse your baby lying on your side. While you're there, close your eyes and breathe deep, and remember how precious the tiny baby moments really are. If that doesn't work, pull out your smart phone and surf the net, I'll promise not to tell!